Sealdah Railway station was started in 1869. Before 1978, there was a tram terminus at Sealdah Station. Trams departed from here towards Rajabazar, Howrah Station, High Court, Dalhousie Square, Park Circus and Dharmatala. The first horse tram service of Kolkata was also started from Sealdah to Armenian Ghat, following the currently route 13, 14 & 16 between Lebutala & Dalhousie Square. The Sealdah-Lebutala & Dalhousie Square-Armenian Ghat (later extended to High Court) stretch is now closed. That terminus was demolished in 1978 also with the Sealdah-Lebutala tram track stretched through Boubazar Street for construction of the Sealdah flyover. The flyover is not high enough to pass tramway tracks under it. However, after its construction, tram tracks were relaid on the flyover. Now tram services between Rajabazar-Esplanade, Parkcircus-Burrabazar and other services pass through Sealdah. Currently, a car parking exists in place of the old tram terminus.
The history of Sealdah Division is a little difficult to track. The part of network under this division was a part of the Eastern Bengal Railway. Eastern Bengal Guaranteed Railway was formed on 29.09.1862 in undivided Bengal. After the state acquired the Guarantee Railway, this was renamed as Eastern Bengal Railway on 01.07.1884 and amalgamated with North Bengal State Railway and South East Railway.Then again it lost its identity and amalgamated with Assam Bengal Railway and a new Railway Bengal & Assam Railway was formed on 01.01.1942. But this was also short lived. B.&A.Railway was divided according to international boundaries after partition of India. in 1947. Sealdah division was formed on 14.04.1952 after reorganisation of railways, The main line (Sealdah to Ranaghat was opened far back on 29.09.1862 during formation of Eastern Bengal Guaranteed Railway.
Eastern Bengal Railway Eastern Bengal Railway Company was registered in 1857 to establish railroad connection between Calcutta and Eastern part of undivided Bengal beyond Ganges(Padma) . First section was completed in January 1962 from Calcutta to Champahati. By May 1862 this extended to Port Canning. Ranaghat was connected in September 1862. After this for the next 20 years there was no extension. Between 1882-1884 Ranaghat , Dum Dum , Bongaon and Diamond Harbour was completed. State took over in 01.07.1884. Dum Dum - Chitpore Goods line was connected in 1914. Shantipur branch opened in 1924. Baruipur - Lakhikantapur section was opened in 1928. (source Jivan Marg : 15.10.1952.)
The original station , designed by Mr. Walter Glanville was built in 1869. This was the main station. Subsequently as Calcutta spread, large areas south of the became suburbanised and it became necessary to provide these new areas with railway communication. The lines radiating to Diamond Harbour (once the main port) , Laksmikantapur, Canning and Budge Budge were known as south section. Interestingly this part of Sealdah station was built close to the main station but at right angles to the main station. Due to the same reasons for growing traffic to and from northern suburban areas another new north Sealdah station was built adjacent to main station. Unfortunately Sealdah lost much of its importance and business after partition.

The division covers the geographical part between river Hooghli on the west, Bangladesh on the north and East and Sundar bans on the south. It is connected with Howrah division main line at Bandel and HB chord at Bally.

It is predominantly a Suburban Division which connects Calcutta with suburbs, surrounding metropolis and villages. Apart from lines in three direction it also controls the Calcutta Circular Railway. The division is the gateway for the traffic of Calcutta Port Trust. It provides services to the Thermal Power stations, feeds - paper, jute, Iron & Steel Plants etc. Gede is the principal interchange point with neighbouring Bangladesh through which cement, coal etc. are exported. It serves the oil terminals at Budge Budge. Apart from this the division has a large number of goods sidings at Cossimbazar, Berhampur, Krishnanagar, Kalyani, Titagarh, Sodepur, Dum Dum Cantonment, Barasat and New Alipur at Kolkata.
A few facts : It was a horrendous task to build a station building at the central business district of the then Calcutta. The foundation of the main Station had to be abnormally deep , in many places 45 ft. below normal ground level owing to the presence of many underground tanks or pits at the site. Some of the walls at that depth are 8 to 10 ft. thick. A six mile long approach embankment was constructed to bring the main line into the station. This was necessary to cross various roads and canals.
Front of the Sealdah Main Station in the year 1944.
Sealdah Main Station near College Square in the old times.
Approach to Sealdah North Station during the morning rush-hour in the past.
Facade of Sealdah Main Station in the year 1956.
Sealdah Railway Station in the year 1944 showing a stationary train.
Sealdah Station in the year 1942.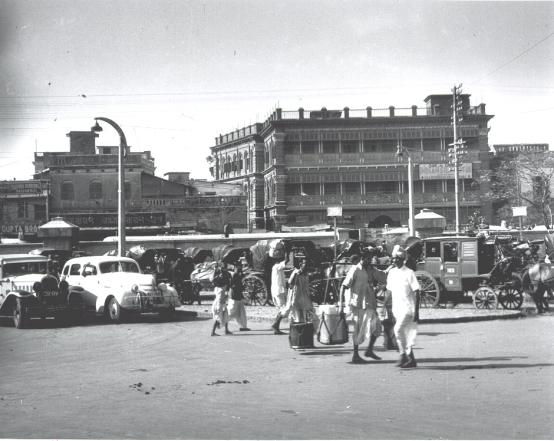 Public transportation waits out in front of Sealdah Station in the year 1940.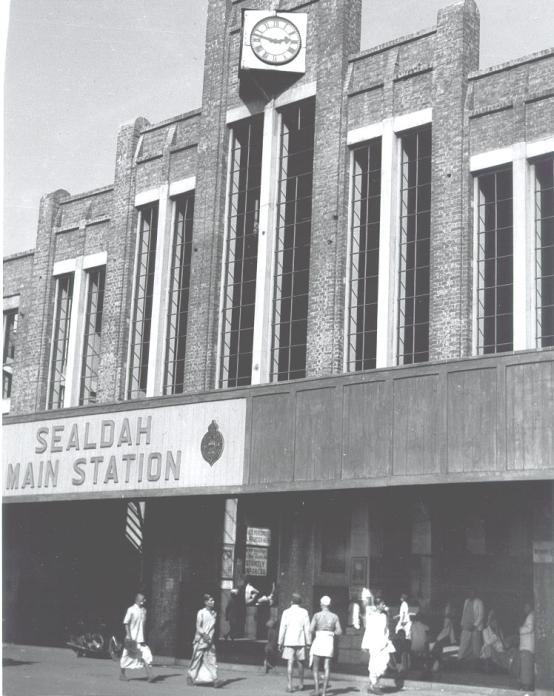 Front of the Sealdah Main Station in the year 1940.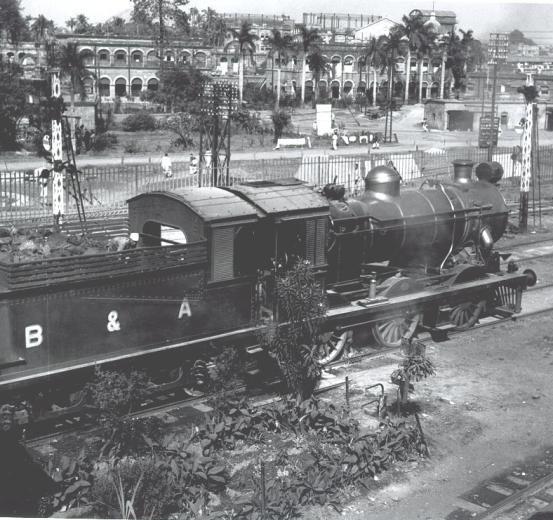 Steam Locomotive of the Bengal and Assam RR in the yards of Sealdah Railway Station in the year 1940.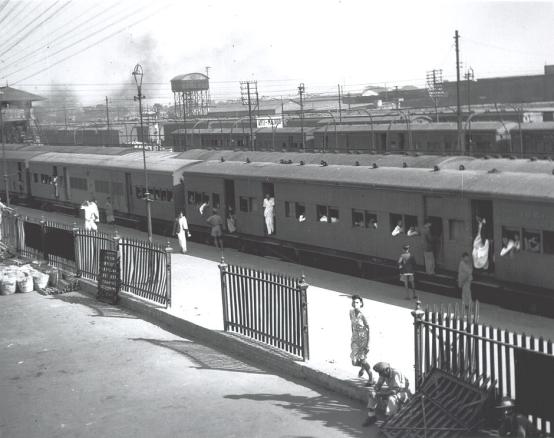 Trains ready to depart Sealdah Station - 1940.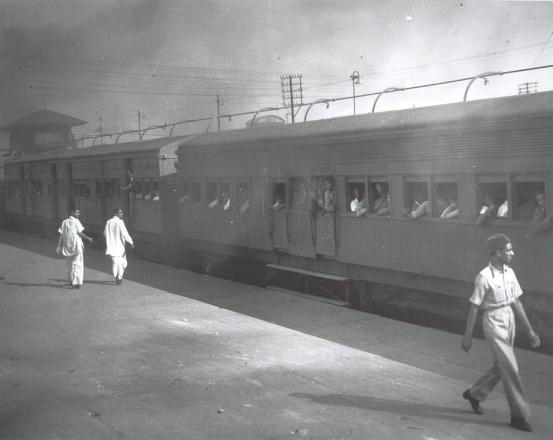 Another view of the Trains -1940
Sealdah Railway Yard in the past.
Sealdah North Station in the old times.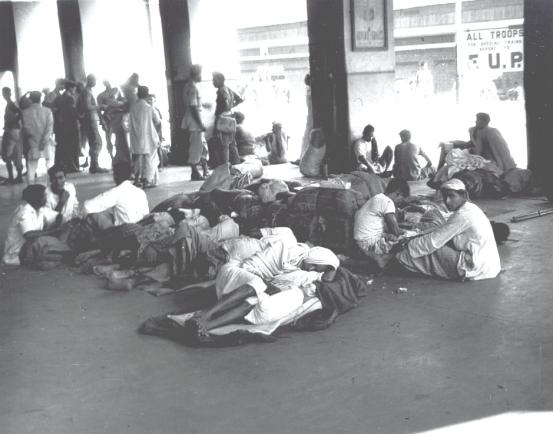 Passenger waiting area, Sealdah Station - 1940.